Mounts to fit it onto a standard air rifle base are included
Nikko Match Rings to fit 3/8" (9-13mm) width dovetail grooved air gun type base are supplied. If you need, for example, 18-22mm weaver/picatinny mounts then you will need to buy them in addition to the scope. See bottom of page for suggestions.
This is a superb top manufacturer scope - Premium quality rifle scope at a budget price.
>>> 6 Power level Red and Green Illuminated Mil Dot reticule for reliable and effective range estimating. Turn off for plain black cross hairs.

>>> Mil Dot reticule for reliable and effective range estimating.
>>> 25mm/1 inch tube with multi coated lenses giving you huge light transmission and wonderful visual clarity
>>> For All Types and Power of Rifle from air rifle to high powered hunter.
Full size 1 piece 25mm tube
Waterproof - Shockproof - Fogproof - Exceptionally Recoil proof
Nitrogen filled and sealed tube
Crystal clear vision through fully multi emerald coated camera quality lenses
Exceptional focus clarity at all ranges
Parallax adjustable from 10 yards to infinity gives you much easier and faster focus at a variery of ranges.
Genuine Nikko Stirling rifle scope. UK importer supplied with UK warranty.

Mil Dot Reticle cross-hairs - Red and Green Illuminated
With red and green illumination options (you can have it turned off for normal black)
Red is very good in low light, dawn and dusk

it gives you a much better contrast of the reticle against target and background - If all is black this is difficult. Red illumination makes it all sharp and clear.
Green is ideal in very bright conditions for the same reasons red is good in low light.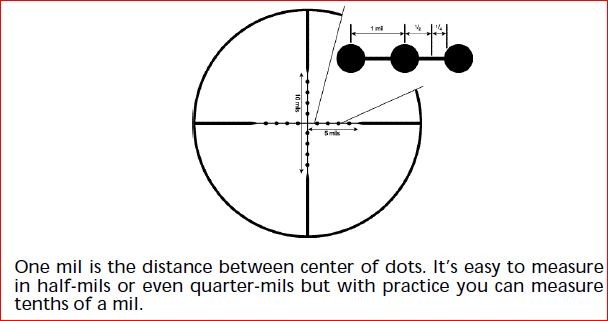 Developed by US Marine snipers in the 1970's the mil dot is one of the most popular all round hunting cross hairs types.
Mil dot is very popular in all areas of shooting, once you get the hang of it you can easily and quickly estimate ranges to targets and set aim points.
40mm Fully Multi Coated Lens:
A great medium size lens that gives you superb light capture and transmission resulting in a truly excellent view.
Fast target acquisition and moving target tracking.
Fully multi coated with emerald to protect and limit glare and reflections (looks) the business too.
3-9x variable magnification
A popular all round variable magnification that is especially well suited to air rifle shooting ranges.
Very easy and very fast dial adjustment.
Exceptional clarity through premium A grade camera quality lens.
You'll get crystal clear focus at 5 yards.
Zero it with Windage and Elevation Turrets:
Windage/elevation target turrets with finger click adjustment.
140 click range (1/4 MOA) - with the click adjustment having the following effect on shot fall point =
> 50 yds: 1/8"
> 100yd: 1/4"
> 200yds: 1/2"
> 300yds: 1"
Parallax Adjustment
Sometimes targets will often "seem" to drift, blur or wobble against their background making focusing a good shot on them very difficult. This effect is known as parallax.
Scopes such as this have Parallax adjustment which basically means you are able to adjust the scope using the twist dial in this case on the lens to factor it out of the equation and get a vastly improved range of focus.
The effect varies in intensity and effect at different ranges so the scope features a range of adjustment settings.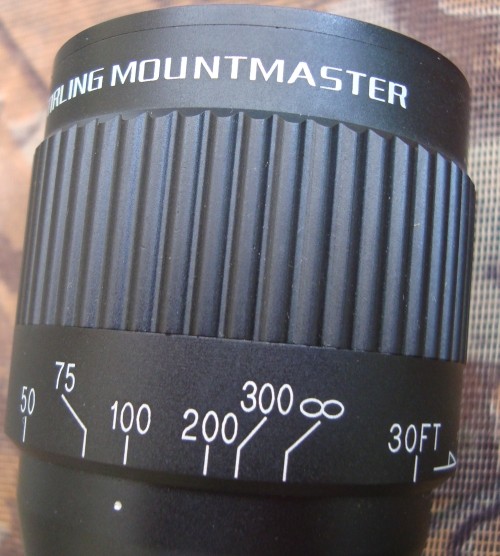 Parallax yard settings: 30 feet, 50 feet then in yards - 25, 50, 75, 100, 200, 300 and infinity.
Adjusted by the objective i.e., it is an AO "Adjustable Objective" scope.